Could U.K.'s Crypto Disaster Be A Lesson for U.S. Regulation?
March 28, 2022 at 18:15 PM EDT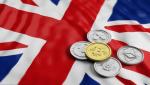 March 31 marks the deadline for crypto firms that offer crypto services to register with the U.K. financial watchdog the Financial Conduct Authority (FCA) and could see crypto companies such as fintech firm Revolut being forced to shutter business in the UK, reported CNBC. The deadline had...