Will a Bitcoin ETF Impact the Crypto Market?
October 15, 2021 at 11:11 AM EDT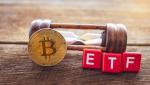 Speculation that the SEC might approve a bitcoin futures ETF as early as this week has the crypto community split on what impact a bitcoin ETF launch might have on the crypto market, Bloomberg reports. Some crypto fans have speculated that the launch of a bitcoin ETF might serve as a catalyst for...