Steeped Coffee Pioneers First Fully Compostable Single-Serve Coffee Brewing Method
(PRUnderground) April 21st, 2021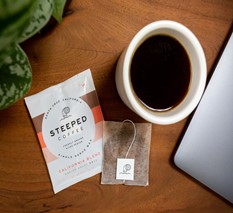 Single-serve coffee drinkers can help curb the world's growing dependency on non-recyclable coffee pods with a switch to Steeped Coffee's proprietary brewing method this Earth Day. More than 10 billion pods are sent to landfills each year, enough to wrap around the planet 175+ times since 2009. Steeped, a Certified B Corp, has pioneered the only single-serve coffee brewing method that is fully compostable, made similar to tea, and requires no barrier to entry, avoiding costly (and even more wasteful) brewing equipment.
"We started Steeped Coffee to provide a positive solution to the growing single-serve coffee problem, while also making quality specialty coffee more accessible to all," said Josh Wilbur, CEO and Founder of Steeped Coffee. "We all have a role to play when it comes to protecting the world we live in and we take that responsibility seriously, especially when it comes to packaging. Our certified commercially compostable Guilt-Free Packaging™ takes every possible step to ensure that your sacred coffee rituals go unnoticed by the next generation."
Steeped Coffee, quickly becoming the new standard in single-serve coffee, is the only fully compostable brewing method available that doesn't require a machine, grinder, or specialty equipment to prepare premium coffee. Each pack contains craft-roasted, freshly ground pre-portioned coffee that is triple nitro-sealed to guarantee the perfect cup every time. Steeped Packs are available through over 200 top roasters at premium grocery stores, premier hotels, and directly online.
"Steeped is proud to be part of a community of leaders, driving a global movement of people using the power of business to solve social and environmental problems," said Wilbur. "As a Certified B Corporation, we are a business that meets the highest standards of verified social and environmental performance, public transparency, legal accountability, and bold company policies, to pursue purpose beyond profits."
Steeped Coffee features include:
100% Specialty Coffee:

quality coffee ethically sourced directly from farmers

Full Immersion Filter:

compostable non-GMO filters for ideal water-in and maximum flavor-out

Guilt-Free Packaging:

made using plant-based renewable and compostable materials

Local Micro Batching:

specialty coffee roasted locally in small batches

Pre-Portioned Si

ngle-Serve:

only brew what you use, reducing wasteful consumption

Precision Ground:

consistent water-cooled grinding to the micron

Nitro Sealed:

removes oxygen, stopping the clock on freshly ground beans

Just Add Water:

single-serve convenience with no machines required

Barista Approved:

tested by independent specialty Q-graders for freshness, quality, and taste
Steeped Coffee is available through KeHE, as well as on Amazon with Prime Free Delivery, at premium supermarkets, luxury hotels, and offices with craft coffee and at-home services. For more information, visit steepedcoffee.com. For business inquiries, contact sales@steepedcoffee.com or visit steepedcoffee.com/business.
Media contact: For additional information, samples, interviews, and/or photos, please contact, press@steepedcoffee.com
STEEPED COFFEE IMAGES: At Home | At Work | While Traveling | Product
About Steeped Coffee
About Steeped Coffee
Steeped, Inc. based in Santa Cruz, California, is a Certified B Corp and Benefit Corporation focused on every detail from farm-to-cup and beyond, to bring people the most convenient, high quality, ethically sourced, and sustainably packaged products available. Steeped Coffee is the new standard for single-serve coffee that combines both convenience and quality all within Guilt-Free Packaging. The proprietary Steeped Brewing Method delivers 100% freshly roasted, precision ground, and nitro-sealed specialty coffee pre-portioned within Steeped Full Immersion Filters. Steeped Coffee is the simplest way to make a perfect cup of coffee by just adding water, with no machine needed.
Steeped Coffee is available on Amazon with Prime Free Delivery, at select Whole Foods, and through premium environmentally conscious supermarkets, luxury hotels, and offices with craft coffee services. Through licensed partnerships, Steeped, Inc. works with over 125 specialty coffee roasters to share its technology and brewing method around the globe. For more information, visit steepedcoffee.com. For business inquiries, contact sales@steepedcoffee.com or visit steepedcoffee.com/business.
The post Celebrate Earth Day with a Switch to Sustainable Steeped Coffee Packs from Top Roasters Nationwide first appeared on PRUnderground.
Press Contact
Name: Vicki Garfinkel Jakubovic

Phone: 9735198926

Email: Contact Us
Original Press Release.