The Traverse Bay Farms Elk Rapids store and Andy LaPointe has been nominated in the 2021 Red Hot Best Competition.
(PRUnderground) March 9th, 2021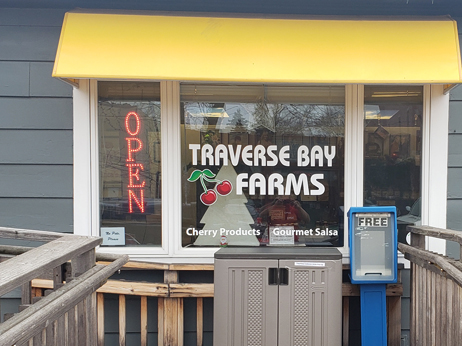 The employees at the Traverse Bay Farms Elk Rapids store has been nominated in the annual competition called "Red Hot Best of Northern Michigan". This competition is done annually by My North publication. Each year the "Red Hot Best of Northern Michigan" has a number of businesses nominated in a number of different competition categories.
For the 2021 competition, Andy LaPointe and the staff from the Traverse Bay Farms Elk Rapids retail store was nominated to be a competitor in the "Best Front Line Workers" category in Northern Michigan. According to Andy LaPointe, "I am truly humbled. A few days I received a call from Mrs. Terry W. She is a long-time customer. Terry and her family live in the Columbus, OH area and visit Northern Michigan several times per year. Columbus is about a six-hour drive south of Northern Michigan.
However, with COVID they haven't been able to travel to Northern Michigan until the restrictions started to ease. Anyway, a few weeks ago they stopped into our Traverse Bay Farms retail store in Elk Rapids, MI. We had a great conversation, she purchased some cherry juice and cherry capsules.
She then called me a few days ago and told me she is always happy with the customer service she receives when she places her orders for cherry juice and cherry capsules over the phone or when they stop into our Elk Rapids store. As a way to tell then world about our customer service, she nominated my staff and me from our Elk Rapids store to be recognized at the "Best Front Line Workers" in Northern Michigan. It is truly an honor to be nominated."
If you would like to learn more about the Traverse Bay Farms nomination for "Best Front Line Worker", here is the link to the competition. https://mynorth.secondstreetapp.com/og/32edfdbc-9f36-4d9d-99da-c6ca1bfd98cf/gallery/271414731
About Traverse Bay Farms / Fruit Advantage
Winner of 26+ national food awards at America\'s largest and most competitive food competitions. Traverse Bay Farms is the #1 award winning super fruit company in America.
Offering an all-natural line of fruit salsa, fruit barbeque, dried fruit including dried cherries, dried blueberries and more. In addition, Traverse Bay Farms offers cherry juice concentrate and teaches about health benefits of cherry juice.
Fruit Advantage is the sister brand an offers a complete line of condition-specific, fruit-based supplements including tart cherry capsules, blueberry capsules, pomegranate capsules. In addition, Fruit Advantage offers a patented formula combining tart cherries with glucosamine and chondriotin. This one-of-a-kind supplement is called Cherry Prime – Complete Muscle and Joint Complex.
The post Traverse Bay Farms Has Been Nominated for Northern Michigan's Red Hot Best first appeared on PRUnderground.
Press Contact
Name: Andy LaPointe

Phone: 1-231-533-8788

Email: Contact Us

Website: http://www.traversebayfarms.com
Original Press Release.