Hot new artist and activist releases visuals for viral single, No Church On Sunday..
(PRUnderground) February 7th, 2021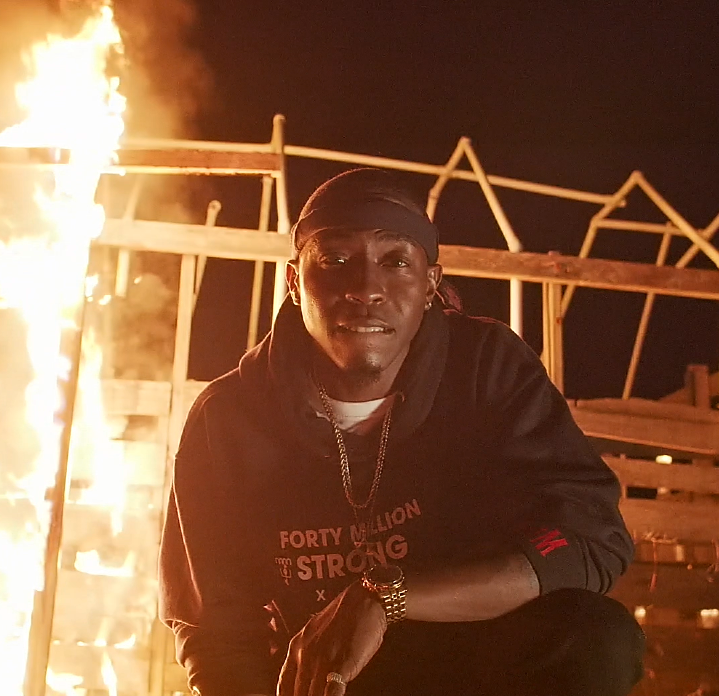 V offers an unflinching no-holds-barred approach on the pure fire of "No Church On Sunday". A sheer physicality takes hold over the track for it has a visceral quality to it. Living and breathing, the track's true soul rests with V's undeniable bars – his vocals have a raspy hip-hop swagger to them as they delivered with such intensity. The urgency of his message feels particularly timely for he captures the dark ominous spirit that must be overcome in this moment, hundreds of years' worth of oppression that constantly show up over and over again worldwide. At some point, this oppression must end and V delves into an exploration of this yearning for something better, something more honest and delivers it in a way that stuns.
After some ambience, found recordings and other snippets of sound the song bursts forth with a righteous fury. His voice has a commanding presence and does not waiver one bit in its deep dive into all of the societal ills that are reinforced by the current status quo. Beats here hit with a force of nature, giving additional weight to his heavy yet necessary message. There is a sadness to these lyrics, a sadness that comes from so many years without any sort of clear resolution. Despite this sadness, V manages to look for a bit of triumph and a way to tackle these up for far too long obstacles. – Colm Slattery, Fruit Sonic
About XLM+
XLM+ is the art and expression component of Forty Million Strong, one of the fastest growing revolutionary movements in the world, currently focused on establishing socioeconomic independence for "Blacks". Headquartered in the US, XLM+ is an innovator of cultural change – purely committed to the empowerment of a nation. Visit https://www.facebook.com/XLMPlus/ for more information.
The post XLM+ and V of 40M's Revolutionary RAPture first appeared on PRUnderground.
Press Contact
Name: XLM+

Phone: (252)378-7799

Email: Contact Us
Original Press Release.