The next consolidated art shuttle covering the entire East Coast, the Southern States, and the Midwestern United States will leave on October 5.
(PRUnderground) October 2nd, 2020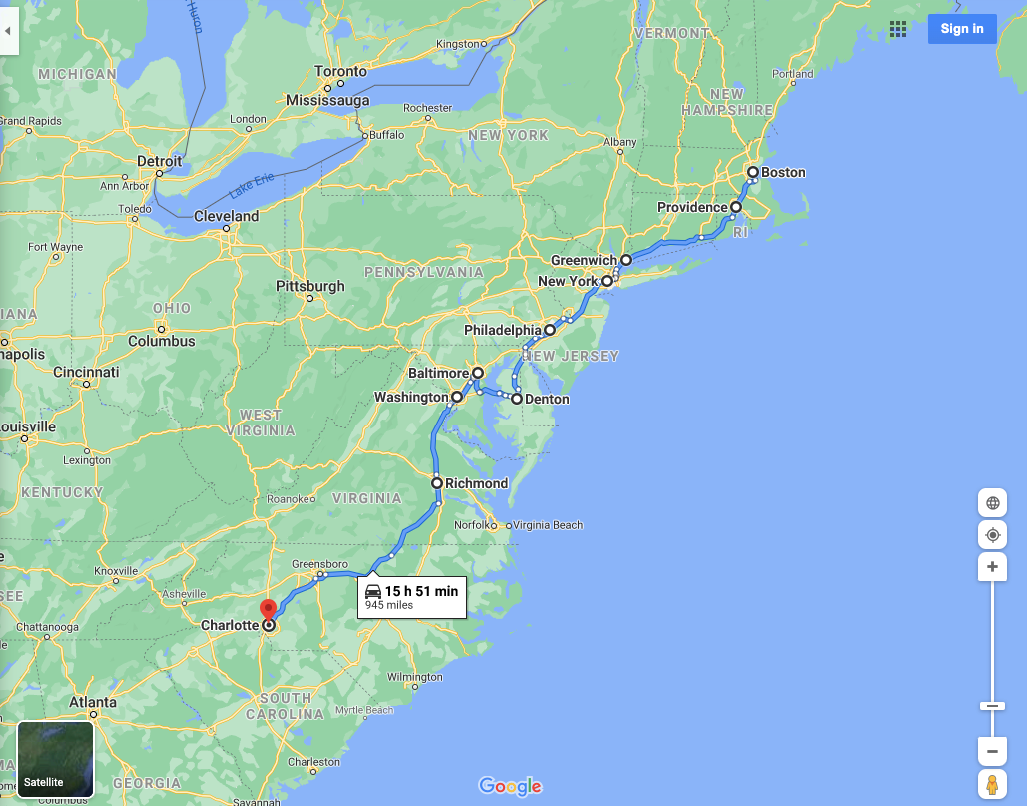 The next consolidated cross-country art shuttle from the art logistics company Fine Art Shippers will leave on October 5. The shuttle will cover the entire East Coast, the Southern States, and the Midwestern United States, with pick-ups and deliveries all along the route. We will start our journey in Boston and will go to Miami through New York City, Washington, D.C., Charlotte, and Atlanta. The art shuttle will be in Florida for several days and then will head to New York through Texas, Colorado, and Illinois, with stops for pick-ups and deliveries on its way.
The upcoming art shuttle from Fine Art Shippers is one of many regular shuttles offered by the company in the United States. It is operated by a team of highly experienced art handlers who have been packing and shipping fine art for many years. Other popular art shuttles from Fine Art Shippers include shuttles going from NYC to Los Angeles through Detroit, Chicago, and Las Vegas, and then back from Los Angles to NYC through San Diego, San Antonio, Dallas, and St. Louis. Any destination for art pick-up and art delivery along the route can be discussed and agreed upon if necessary.
The next art shuttle leaving from Boston is scheduled for October 5. Going from Massachusetts, it will cover the entire East Coast of the United States, including the states of Rhode Island, Connecticut, New York, Pennsylvania, Maryland, Virginia, North Carolina, Georgia, and Florida. In Florida, we will visit Jacksonville, Orlando, and Miami and then go to West Florida, with a stop in Tampa. The art shuttle will be in the Sunshine State until October 9 and then will go to Texas.
On its way back to New York, the art shuttle will visit Houston, Austin, Dallas, and other cities in Texas and then will go to Denver, Chicago, Detroit, and Pittsburgh. The final destination is NYC. All artworks that will be picked up on the way can be delivered anywhere across the country within 3 weeks, including to the West Coast of the United States. To know the cost of shipping, clients can request a free quote online or contact Fine Art Shippers team directly.
As a professional art logistics company, Fine Art Shippers is fully oriented toward customer satisfaction, trying to meet any needs and requirements of the art community. In addition to our national art shuttles and international transportation of art, we provide professional art packing, custom crating, art storage, art installation, and other services. Please visit our website or join Fine Art Shippers on social media platforms to learn more about our services and offers.
About Fine Art Shippers
Fine Art Shippers is a professional fine art shipping company headquartered in New York City. Established in 1995, we have grown to provide a wide range of art and antique moving services to meet the needs of the art community and private collectors from around the world. Our expertise includes but is not limited to luxury home moving, art packing and crating, art storage, white glove art courier service, art installation, antique furniture moving, international transportation, and gallery exhibition services. We operate across the United States and worldwide, making Fine Art Shippers the number one choice for many reputable art business professionals and institutions. Find more information about our team of dedicated art shippers on our website.
The post Art Shuttle Boston-NYC-Miami-Dallas-Chicago Will Leave on October 5 first appeared on PRUnderground.
Press Contact
Name: Ilya Kushnirskiy

Phone: +1917-658-5075

Email: Contact Us

Website: https://fineartshippers.com/
Original Press Release.