Gold is Soaring But Is Silver Poised For Greater Gains?
August 05, 2020 at 11:24 AM EDT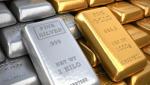 Precious metals are no doubt shining amid the Covid-19 pandemic as the safe haven of choice at the moment, but it's not just gold in the spotlight. Silver is also gaining and could be poised for even greater gains. "Silver is set to outshine gold, even as prices of both precious metals...