What's the Best Stock-Bond Allocation in Today's Market?
May 18, 2020 at 10:47 AM EDT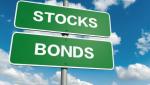 Even before the coronavirus pandemic rained heavy volatility on stocks and bonds, the 60-40 allocation was already in question as a viable strategy at the height of the bull market. Now, that 60-40 allocation has been rendered even more arcane, which puts strategies like smart beta into the...