Smart Beta Funds Can Benefit the Right Investor: Is it You?
April 17, 2020 at 11:03 AM EDT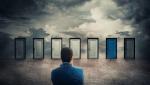 The coronavirus is injecting a larger-than-expected dose of uncertainty in the markets, which will continue to affect investors' decisions moving forward. Smart beta strategies can help investors navigate these murky waters, but is it for everybody? "Investors need to be mindful that factor funds...