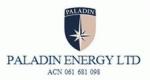 PERTH, WESTERN AUSTRALIA--(Marketwired - June 12, 2017) - Paladin Energy Limited (Paladin or the Company) (ASX: PDN) (TSX: PDN) refers to its previous announcements regarding its efforts to achieve a long term debt restructure solution for the benefit of all stakeholders. In particular, Paladin refers to the recent independent expert findings that the value of the security offered by Paladin to Électricité de France S.A. (EDF) under its Long Term Supply Contract is insufficient.
The Company requests a voluntary suspension of its securities from trading on the ASX effective immediately pending resolution of this matter. Paladin advises that:
Paladin has approached EDF to negotiate the terms of a standstill to defer Paladin's obligation to pay the outstanding amount (being approximately US$277 million). Pending resolution of this matter, there is uncertainty regarding Paladin's ability to successfully achieve any debt restructure, the outcome of which is critical to Paladin's continued financial viability.
Paladin is currently taking advice on the above and expects the voluntary suspension will continue until it has resolved how to progress the standstill. Paladin currently expects that this may take until at least the end of June 2017.
Paladin is not aware of any reason why the securities should not be suspended.
Paladin is not aware of any other information necessary to inform the market about the suspension at this time.
Yours faithfully,
Paladin Energy Ltd
RANKO MATIC
Group Company Secretary
CONTACTS
For additional information, please contact:
Andrew Mirco
Investor Relations Contact (Perth)
Tel: +61-8-9423-8162 or Mobile: +61-409-087-171
Email: andrew.mirco@paladinenergy.com.au