Amerimold Named one of the Country's Fastest Growing Trade Shows
Fastest 50 Award from Trade Show Executive Magazine honors events with rapid growth.
(PRUnderground) February 21st, 2017
Amerimold, The Event for Mold Manufacturing, has been honored as one of the best tradeshows in the industry. Created by Trade Show Executive Magazine, the Fastest 50 award honors the fastest-growing shows held in the United States during the previous year. 50 winners are selected based on the percentage of growth in each of the following categories: net square feet, number of exhibiting companies and number of attendees. Amerimold was selected in all three categories.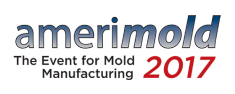 Amerimold has continued to grow and the 2016 show featured 195 exhibiting companies occupying 22,000 square feet with more than 3,200 attendees – making it the largest Amerimold in show history.
Trade Show Executive releases only the names of the Fastest 50 in advance; winners of each category will be announced at its Fastest 50 Awards & Summit in Chicago, April 28.
"We are honored to be included in Trade Show Executive's list of 50 Fastest Growing Trade Shows," said Allison Miller, Event Director for Amerimold. "Along with MoldMaking Technology Magazine, we have a strong commitment to the plastic injection molding manufacturing market and intend to see continued growth for Amerimold in the future."
Amerimold returns to Rosemont, June 14-15 2017 and registration is currently open. www.amerimoldexpo.com
About Amerimold
Amerimold is North America's premier event for mold manufacturing. Presented by Gardner Business Media, in partnership with MoldMaking Technology, Plastics Technology and Modern Machine Shop, amerimold connects global and domestic technology leaders involved in all aspects of mold manufacturing.
www.amerimold.com
Press Contact
Name: David Necessary

Phone: 513-527-8800

Email: daven@gardnerweb.com

Website: amerimoldexpo.com
Read full release at PRUnderground.com: Amerimold Named one of the Country's Fastest Growing Trade Shows.