Road Town, British Virgin Islands--(Newsfile Corp. - March 14, 2023) - LBank Exchange, a global digital asset trading platform, will list Metaworld (MWCC) on March 15, 2023. For all users of LBank Exchange, the MWCC/USDT trading pair will be officially available for trading at 7:00 UTC on March 15, 2023.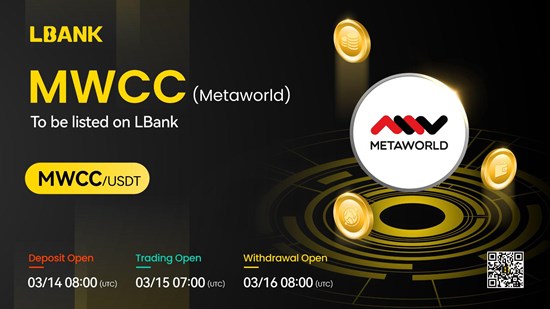 MWCC Listing Banner
To view an enhanced version of this graphic, please visit:
https://images.newsfilecorp.com/files/8831/158223_dc2d193c24a8f831_001full.jpg
As a virtual nation metaworld cryptocurrency blockchain platform, MWCC builds a place where sellers and buyers grow and create a new metaverse shopping ecosystem together. Its native token Metaworld (MWCC) will be listed on LBank Exchange at 7:00 UTC on March 15, 2023, to further expand its global reach and help it achieve its vision.
Introducing MWCC Platform
The MWCC platform is a shopping ecosystem in the form of a new social metaverse built with buyers, influencers, and commerce. It provides tokens that can be used in various social fields and services that can be used online. It has various technical characteristics of blockchain, such as a consumer network through sharing on SNS and providing rewards according to contribution, beyond the scope of simple use of cryptocurrencies.
As a platform that anyone can easily operate and ensure communication with customers, MWCC creates a value ecosystem of metaverse shopping by breathing with customers. With the participation of customers, MWCC allows shopping malls and metaverse to be combined and operated, with supplier API, overseas delivery, and quick and easy payment.
In addition, by allowing fans to stake in the service pool operated by the members, an ecosystem of coexistence is established. All rewards will be built to be shared by the seller and the buyer, and all reward structures will be transparent, managed by blockchain.
MWCC also features SNS integrated management system. Through a simple event, users can invite their friends to participate or purchase together, and they can receive rewards for their activities according to their contribution and role. It provides fast, powerful marketing tools that help users create their own brand and expand their network. Furthermore, by supporting NFT, MWCC enables users to tell a great story with a single photo, which attracts customers' attention.
The MWCC platform plays middleware role for a wide variety of media services worldwide, features payment service with simple payment structure, and provides various shopping solutions. It also supports competition and collaboration among streaming platforms and allows to communicate information across different media as a community. Through this platform, MWCC would like to build Visual Nation Metaworld with the goal of building a protocol and an economic community where consumers are the owners.
About MWCC Token
MWCC is the native token of MWCC platform that can be used for payment and various services. Based on TRC-20, MWCC has a total supply of 2 billion (i.e., 2,000,000,000) tokens, of which 20% is provided for the public, 10% will be used for market development, 10% will be used for marketing, 10% is provided for business partners, 20% is allocated to the team, 20% is reserved for the MWCC fund, and the remaining 10% is allocated to advisors.
MWCC token will be listed on LBank Exchange at 7:00 UTC on March 15, 2023, investors who are interested in Metaworld can easily buy and sell it on LBank Exchange by then. 
Learn More about MWCC Token:
Official Website: https://metaworldcc.com/index_en.html
Twitter: https://twitter.com/Metaworld_mwcc
Facebook: https://www.facebook.com/metaworldcc
Medium: https://medium.com/@metaworldcc
About LBank
LBank is one of the top crypto exchanges, established in 2015. It offers specialized financial derivatives, expert asset management services, and safe crypto trading to its users. The platform holds over 9 million users from more than 210 regions across the world. LBank is a cutting-edge growing platform that ensures the integrity of users' funds and aims to contribute to the global adoption of cryptocurrencies.
Start Trading Now: lbank.com
Community & Social Media:
l Telegram
l Twitter
l Facebook
l LinkedIn
l Instagram
l YouTube
Contact Details:
LBK Blockchain Co. Limited
LBank Exchange
marketing@lbank.info
business@lbank.info
To view the source version of this press release, please visit https://www.newsfilecorp.com/release/158223