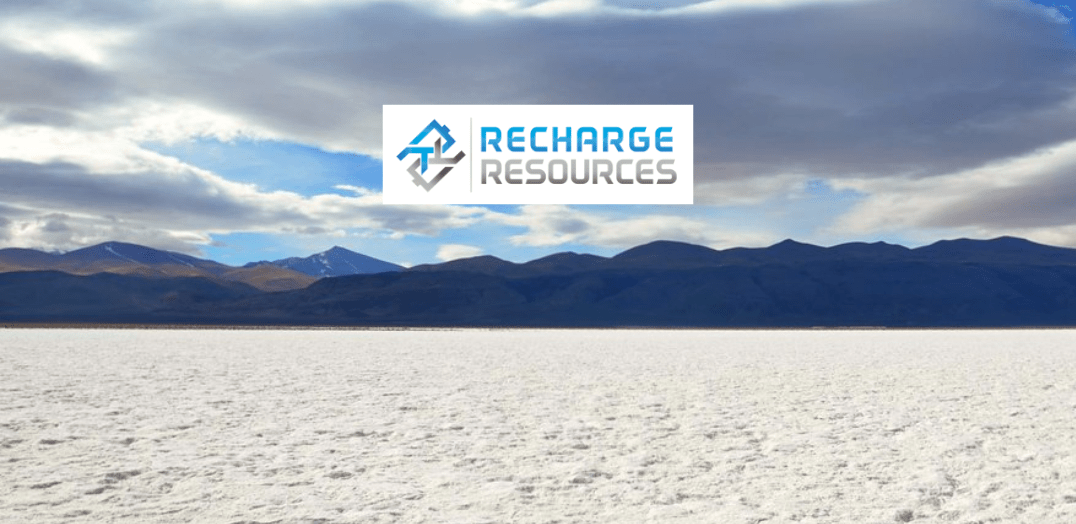 Recharge Resources Ltd. (CSE: RR) (OTC: RECHF) (Frankfurt: SL5) stock is following its peer's lower as commodity prices and risk-off sentiment weigh on smallcap exploration companies. But the trend shouldn't serve as a deterrent but rather an opportunity, especially with RECHF continuing to provide tangible updates of progress made at its historically rich mining locations.
More was provided last week when Recharge Resources announced that its brine samples containing 161 ppm lithium taken from its 2022 DDH3 drill program at the Pocitos lithium brine project in Salta, Argentina, are being converted from lithium chloride to battery-grade lithium carbonate. That process involves RECHF using Ekosolve™️ 10-stage extraction methods to produce lithium chloride, which is expected to provide end-product revenues under the offtake LOI between Recharge and Richlink Capital's clients. Moreover, this development could expedite a further pre-engineering step being completed to produce lithium carbonate from the Pocitos lithium brines.
Here's the better news from a longer-term perspective. This additional work serves as an Ekosolve™ Extraction performance test recovery that could accelerate scale-up of providing up to 20,000 tonnes per year of Ekosolve™ Lithium Brine Extraction from the Pocitos project, which could benefit RECHF revenue-wise from a technology licensing agreement announced in 2022. This technology is more than different; it's productive.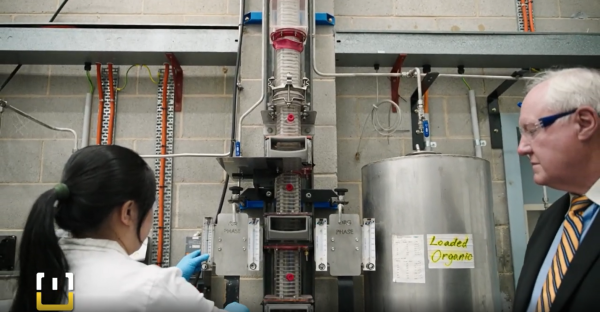 Innovative Technology To Enhance Revenue Potential 
The Ekosolve™️ Lithium Solvent Exchange Extraction process efficiently manages lithium brine processing to produce lithium carbonate with a grade higher than 99.2% and a recovery of 97%. Those returns are appreciably better than any ion exchange or adsorption process commercially available to date. 
The essential advantage of the Ekosolve system, licensed from the University of Melbourne, Australia, and Ekosolve Ltd, the exclusive master licensee, is the exceptionally high lithium yield, with past yields of 93%-96% and 97.5% of the solvent being reclaimed. Other systems, such as absorption, may achieve 72-80% yield, fractional crystallization of 50-70%, and membranes and ion exchange up to 70-90%.
Furthermore, extra processes are usually required to manage the magnesium and boron content in the brines with absorption and ion exchange systems, an issue irrelevant to the Ekosolve process. That advantage inherently lowers the capital expenditure and operating costs and provides a more eco and environmentally-friendly processing solution because evaporation ponds are not required.
New Milestones Reached
From an investor's standpoint, the more exciting news is in the brine flow details. Ekosolve™ pre-engineering studies have shown that brine flow exceeds 35,000 megalitres per year. And that impressive rate could increase after Recharge successfully completed its 2022 drill campaign at Pocitos 1, assaying 169 ppm and over two weeks averaging 161 ppm Lithium. There's more promising data. Further surface pit samples from the recently acquired contiguous Pocitos 2 project sampled 181 PPM lithium, the highest lithium value found on the Pocitos salar to date. That's in addition to RECHF's three drill holes at the project having exceptional brine flow rates.
For RECHF, the work completed is another milestone in its mission to build an up to a 20,000-tonne Ekosolve™ lithium extraction plant at the Pocitos project, which would supply Richlink Capital Pty. Ltd. up to 20,000 tonnes of lithium chloride/carbonate per year. Terms of that deal were announced under a letter of intent of offtake. The longer term could benefit both companies more significantly if the resource is economically sourced and mine longevity extended.
Further flow rate testing is scheduled this month at Pocitos 1 by RECHF's geologists to determine paths forward in each respect.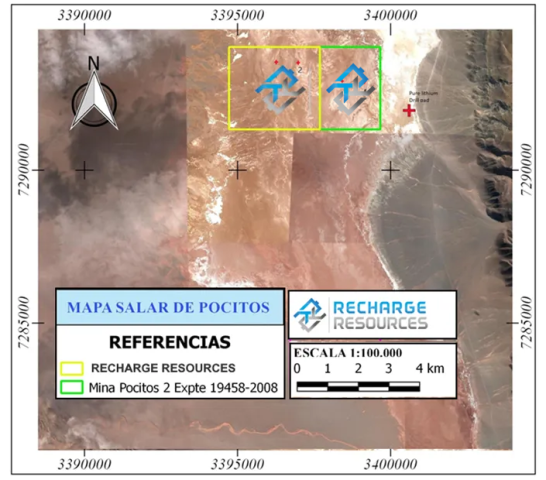 Pocitos Projects Could Deliver Significant Value
There's evidence supporting a positive read. And the groundwork completed at its Argentina-based Pocitos 1 project puts RECHF a significant step closer to exploiting precious mineral deposits to serve unprecedented demand. Remember, Recharge already announced receiving approval from that country's Dept of Mines to drill a production diameter well at its Salar Lithium Brine Project, which could expedite the pathway for additional exploration approvals. That news was preceded by RECHF announcing plans to expedite development at its Georgia Lake and West Lithium projects in Ontario, Canada.
It was a one-two punch that did well in attracting investor interest. But there is still more driving the RECHF value proposition. Last month, RECHF announced engaging with Quantec Geoscience Argentina SA to provide a Controlled-Source Magnetotellurics audio-telleric geophysical survey to delineate the lithology and potential aquifers on its 800 ha property down to a depth of 500m at the flagship Pocitos 1 Lithium Brine Project in Salta, Argentina. That work is expected to start by April 2023. Notably, the data revealed from this new milestone could become a near-term catalyst.
While the dose of excellent updates inspired a well-deserved rally, a third update exposed additional value added to the RECHF pipeline. The announcement was from AIS Resources Limited (TSX.V: AIS, OTCQB: AISSF), who congratulated Recharge Resources on signing an option agreement with Spey Resources Corp. whereby RECHF can acquire up to a 100% undivided interest in the Pocitos 2 Project.
AIS retains a 7.5% royalty of the FOB price of lithium carbonate or other lithium compounds sold on Pocitos 1 & 2 under AIS' underlying Option Agreement with Spey Resources. That means that if the Pocitos 1 and 2 options are exercised, AIS will receive $1,000,000 and $732,000, respectively, on or before June 30, 2023. Both Pocitos 1 and 2 have been optioned by Recharge from Spey. That's a potentially huge value driver for RECHF because acquiring the Pocitos 2 Option can significantly increase the size of its potential resource holdings. 
Remember, proven reserves, even underground, can be marked as assets in the metals, exploration, and mining sectors. And as later-stage exploration work continues this year at its 2023 Pocitos drilling program, proving reserves can mean a valuation windfall for RECHF and AIS.
Fast-Moving And Productive
That could facilitate RECHF being significantly closer to building an up-to-20,000-tonne lithium extraction Ekosolve plant at the Pocitos 1 project. As noted, once completed, RECHF has supply agreements in place, committing to sell up to 20,000 tonnes of lithium chloride/carbonate per year to Richlink Capital Pty. Ltd. 
That deal can be worth a lot despite a bearish trend for the asset, which posted spot market prices last week at 319,500 yuan per tonne, equal to about $46,391 (US) per tonne at exchange rates published on March 17, 2023. Thus, assuming RECHF delivers the entire 20,000 tonnes as contracted, revenues could eclipse $927 million at current exchange rates. That could happen faster than many expect, considering that the company now has three existing drill holes in place, this new drilling, and a CSAMT audio-telluric geophysical survey to contribute to an NI 43-101 mineral resource estimate.
Speculatively speaking, those activities help to mitigate downside risk. Attribute some of that assessment from RECHF benefiting from an Argentinian geological team empowering the company to expedite progress toward establishing a NI 43-101 compliant mineral resource. They are also helping to facilitate, even expediting, a scoping study of the project in collaboration with its Chinese offtake partners and investors for lithium chloride products at the Pocitos1 Project. The inherent value is that whether through a primary supply client or many, the work getting done positions RECHF to sell to substantial global demand.
An Attractive Long-Term Lithium Market Opportunity
And that's a long-term proposition. Elon Musk recently told his investors that his company is moving forward to build a lithium refinery on the Texas Gulf Coast to gain more control over the supply chain for EV batteries. And Tesla (NASDAQ: TSLA) isn't the only company working proactively to secure the assets needed to maintain production; Ford (NYSE: F), General Motors (NYSE: GM), and several other EV manufacturers are trying to secure as much lithium as possible. Some are trying to buy total production outputs from suppliers or even considering purchasing entire projects to support EV initiatives. Of course, they are just one industry needing what RECHF intends to supply.
Consumer goods, defense companies like Lockheed Martin (NYSE: LMT), and industrials need what this smallcap exploration company is in business to deliver. It's often said that value is at its best on the ground floor, which makes sense, given that risk is still attached to the company. But, taken as a whole and accounting for the infrastructure already turning the gears of progress, there are still tremendous values to be had in under-the-radar exploration companies on the cusp of transformation.
RECHF makes that list. Supporting the case beyond what has been noted, the company is transparent, has an expert management team, and is accelerating the pace of its projects at locations where vast reserves have been unearthed historically. Few expect that will change during RECHF's mission.
Know this, too: there's still more to appreciate from the RECHF portfolio.  
Georgia Lake And West Lithium Projects
Recharge Resources is also advancing promising Georgia Lake and West lithium projects, located approximately 160 km northeast of Thunder Bay, Ontario, within the Thunder Bay Mining Division. Parts of these properties border Rock Tech projects, which recently announced its expectation to finalize a more than $670 million high-quality lithium supply deal with Mercedes-Benz AG.
That deal leads RECHF to remain optimistic its locations can offer the same production promises. Known is the fact that the Rock Tech Lithium, Georgia Lake project hosts several spodumene-bearing pegmatites, with Lithium mineralization discovered in 1955 and subsequently explored by several historic owners exposing the properties as an NI 43-101 Mineral Resource. That was reported in Rock Tech's Preliminary Economic Assessment filed in March 2021.
While past performance isn't the most accurate indicator in many industries, it is within the mining and exploration sector. Remember, mineral deposits are not stingy where they settle, meaning that bordering a property indicated to have potentially massive reserves is indeed bullish to neighboring prospects. Rock Tech is a good one to have in proximity.
Rock Tech expects to deliver up to 10,000 tonnes of high-quality lithium hydroxide per year to Mercedes-Benz AG starting in 2026. That's indeed excellent news for Rock Tech. Moreover, it also gives good reason for RECHF to trade higher in sympathy, noting that Rock Tech anticipates that the planned delivery of that product won't deplete its capable inventory, indicating a substantial amount of lithium is expected to be mined.
More directly, bordering a company preparing to supply more than half a trillion dollars in lithium to a global business giant puts Recharge Resources in the right place at the right time. In fact, few argue against the statement that in the mining business, location is everything when it comes to mining for metals and mineral riches. And based on Rock Tech's deal, RECHF is sitting on a potential lithium windfall.

Cobalt Adds Another Value Component
There's another potentially massive value driver in play: cobalt. Recharge Resources said it plans to capitalize on that market potential as well. Cobalt is a critical metal needed for EV battery production. However, more valuable to RECHF's opportunity to attract client interest is that virtually no cobalt production is happening in North America. It is debatable whether that's due to its fractional use compared to other necessary battery metals. What isn't, however, is that cobalt's need is no less critical than other battery metals.
That demand adds another substantial revenue-generating shot on goal to the business plan. Moreover, as one of only a handful of North American suppliers, it's possible that RECHF could earn a sizable market share, whether alone or through partnerships, especially after reporting that it's already in the early stages of proving its cobalt resources. If those reserve estimates are verified, it's feasible for RECHF to become one of the first North American cobalt resources brought into commercial production.
Groundwork Completed For A Breakout 2023
Bottom line: RECHF's sum of its parts position them ideally for what could be a transformative 2023. The more excellent news supporting that proposition is that in addition to proving assets under the ground, RECHF has shots at revenue-generating goals from at least three assets needed to fulfill a global shift to electrification. And with many mega-cap companies scrambling for supply, smallcap Recharge could be playing in the supply chain's big leagues. In fact, if current exploration surveys confirm assets underground, RECHF could attract companies eager to invest in further exploration and development projects to shore up their own inventory concerns. 
In other words, junior miners and exploration companies like RECHF, which could become vital to the supply chain, may be presenting some of the best value investment opportunities. Thus, while the senior sector companies may earn more headlines, many are fully valued. At current values, especially after non-company-specific reasons for a decline, RECHF isn't. And considering they are in a global market needing what they expect to sell, that could make the path of least resistance for Recharge Resources growth likely higher.
Disclaimers: Shore Thing Media, LLC. (STM, Llc.) is responsible for the production and distribution of this content. STM, Llc. is not operated by a licensed broker, a dealer, or a registered investment adviser. It should be expressly understood that under no circumstances does any information published herein represent a recommendation to buy or sell a security. Our reports/releases are a commercial advertisement and are for general information purposes ONLY. We are engaged in the business of marketing and advertising companies for monetary compensation. Never invest in any stock featured on our site or emails unless you can afford to lose your entire investment. The information made available by STM, Llc. is not intended to be, nor does it constitute, investment advice or recommendations. The contributors may buy and sell securities before and after any particular article, report and publication. In no event shall STM, Llc. be liable to any member, guest or third party for any damages of any kind arising out of the use of any content or other material published or made available by STM, Llc., including, without limitation, any investment losses, lost profits, lost opportunity, special, incidental, indirect, consequential or punitive damages. Past performance is a poor indicator of future performance. The information in this video, article, and in its related newsletters, is not intended to be, nor does it constitute, investment advice or recommendations. STM, Llc. strongly urges you conduct a complete and independent investigation of the respective companies and consideration of all pertinent risks. Readers are advised to review SEC periodic reports: Forms 10-Q, 10K, Form 8-K, insider reports, Forms 3, 4, 5 Schedule 13D. For some content, STM, Llc., its authors, contributors, or its agents, may be compensated for preparing research, video graphics, and editorial content. STM, LLC has been compensated up to four-thousand-dollars cash via wire transfer by a third party to produce and syndicate content for Recharge Resources, Inc. for a period of one month ending on 4/1/23. As part of that content, readers, subscribers, and website viewers, are expected to read the full disclaimers and financial disclosures statement that can be found on our website. The Private Securities Litigation Reform Act of 1995 provides investors a safe harbor in regard to forward-looking statements. Any statements that express or involve discussions with respect to predictions, expectations, beliefs, plans, projections, objectives, goals, assumptions or future events or performance are not statements of historical fact may be forward looking statements. Forward looking statements are based on expectations, estimates, and projections at the time the statements are made that involve a number of risks and uncertainties which could cause actual results or events to differ materially from those presently anticipated. Forward looking statements in this action may be identified through use of words such as projects, foresee, expects, will, anticipates, estimates, believes, understands, or that by statements indicating certain actions & quote; may, could, or might occur. Understand there is no guarantee past performance will be indicative of future results. Investing in micro-cap and growth securities is highly speculative and carries an extremely high degree of risk. It is possible that an investors investment may be lost or impaired due to the speculative nature of the companies profiled. 
Media Contact
Company Name: STM, LLC.
Contact Person: Michael Thomas
Email: contact@primetimeprofiles.com
Phone: 917-773-0072
Country: United States
Website: https://primetimeprofiles.com/