Our last giveaway event featuring Zed Run was a huge success! We'd like to thank everyone that contributed and participated in this event. We received countless submissions, but unfortunately, not everyone could be a winner. However, there is still another chance to get your hands on one of our prizes.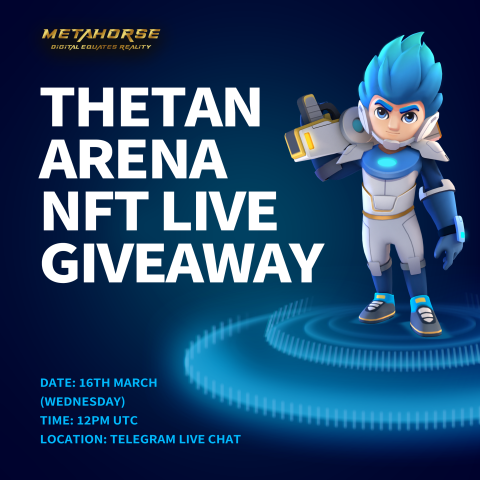 Dropping The MetaLinx
This time, we have some special guests for our community. On 16th March, MetaLinx hosted a special giveaway event with the MetaHorse community. They wanted to build rapport and a deeper connection with the community by giving away five exclusive Thetan Arena NFT.
Five exclusive Thetan Arena NFTs
Each NFT has different rarities and models
Exclusively to MetaHorse community to build a long-term relationship with the project.
How to be the chosen one?
How to win? It's simple. There's only one thing you must do to be a part of this special event: Join MetaHorse Telegram. After that, join our live session, complete the given instructions, and you will stand a chance to win the NFT!
Please remember that this event will be a 'live draw' to ensure everyone stands an equal chance to participate and win the NFT.
Why the giveaway?
It's not an easy task to build a unique project like MetaHorse. The team needs to go through a lot of work and overcome an uncountable amount of obstacles. It's like constantly working under immense pressure and living in uncertainty.
However, as you can see, the team managed to pull things together, and the project is now snowballing. This giveaway is merely a way for the team to thank those who are actively helping us build the project and community. We couldn't do it without the help from you guys.
That's also why we are so obsessed with delivering a "user-centric" outcome to our fellow supporters and communities. We, instead, have not started the project at all if it's not for the people holding our back.
Future incentives & prizes?
The team is also working on creative ways to add more incentives to help build our community and grow the platform even more.
Do keep in mind that the Thetan NFTs will not be the last prize we will give away. There's more to come. Stay tuned!
Media Contact
Company Name: METAHORSE
Contact Person: John Chin
Email: Send Email
City: Dubai
Country: United Arab Emirates
Website: https://themetahorse.io/