300Magazine is thrilled and excited to share the amazing news that NYC ARTWALK and At The Art Fair will bring art to the streets of NYC this spring.
(PRUnderground) February 9th, 2021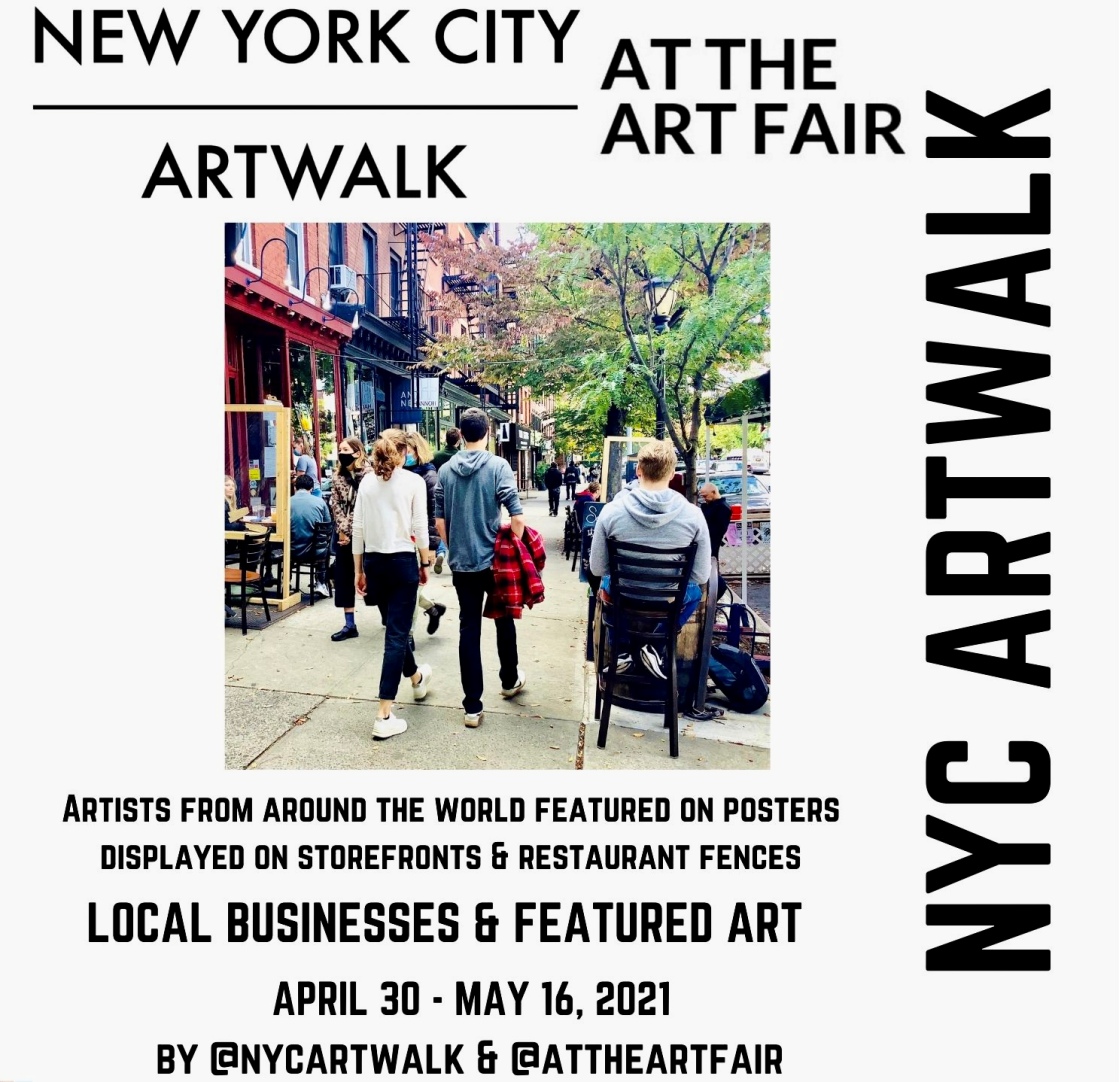 The online magazine 300Magazine is thrilled and excited to share the amazing news that NYC ARTWALK and At The Art Fair will bring art to the streets of New York City to help local businesses, artists, and community members have access to art in these difficult times of the coronavirus pandemic. The art project, which is designed as an art walk accessible to all, will be held in the neighborhoods of Long Island City and Astoria in Queens and Greenpoint in Brooklyn this upcoming spring, on April 30 – May 16, 2021.
NYC ARTWALK is an art organization aimed at making culture available to NYC community members of all walks of life and situations. It is the only and first organization of its kind created to display works by artists from around the world through various NYC art walks, shows, and events. Based on the principles of equity, inclusion, and diversity, NYC ARTWALK has developed a sustainable model of opportunities supporting both artists and NYC businesses. It also serves as a bridge between contemporary talents and the local communities, helping them connect and interact with each other in a relaxing environment.
This spring, NYC ARTWALK and At The Art Fair will bring art to Queens and Brooklyn, NY. The upcoming art walk is destined to help communities see art by many talented contemporary artists and simultaneously support local businesses in the Long Island City, Astoria, and Greenpoint neighborhoods. The art walk will feature a carefully selected collection of weather-resistant posters that will be displayed on storefronts and fences of local businesses in Queens and Brooklyn. Bakeries, coffee shops, restaurants, stores – any kind of business can take part in this project for free, which is a great opportunity to support each other and provide NYC community members with an art-friendly atmosphere to enjoy this spring.
The art walk in Brooklyn will take place along Franklin Street and Greenpoint Avenue. In Queens, it will take place along Ditmars Boulevard and businesses in proximity, as well as by Gantry Plaza and Vernon Boulevard, steps away from the East River waterfront. As mentioned above, the project will feature art from all over the globe and will take the format of an outdoor art walk, following the rules and guidelines set by the health and government authorities. Thus, art lovers, community members, and local businesses will interact in a safe, contactless manner to stop the spread of the coronavirus pandemic. For more information about the upcoming art walks and participation opportunities, please contact NYC ARTWALK by sending an e-mail to info@nycartwalk.com.
About 300Magazine
300Magazine is an online magazine about fine art, culture, luxury watches, cars, boats, planes, jewelry, and everything related to luxury lifestyle. Based in New York City, we are fortunate enough to be living and working at one of the centers of art and technology of our time. This puts us in a strategic and inspired position to see what's new, who's who, and what you need to know. We also have a lot of friends overseas, keeping us posted on what is happening abroad.
The post NYC ARTWALK & At The Art Fair to Bring Art to Queens & Brooklyn, NY first appeared on PRUnderground.
Press Contact
Name: Ilya Kushnirskiy

Phone: +19176585075

Email: Contact Us

Website: http://300magazine.com/
Original Press Release.