Join a discussion on how digital health technologies can streamline patient screening. The panel will address how the COVID-19 pandemic has served as an agent of change.
(PRUnderground) October 21st, 2020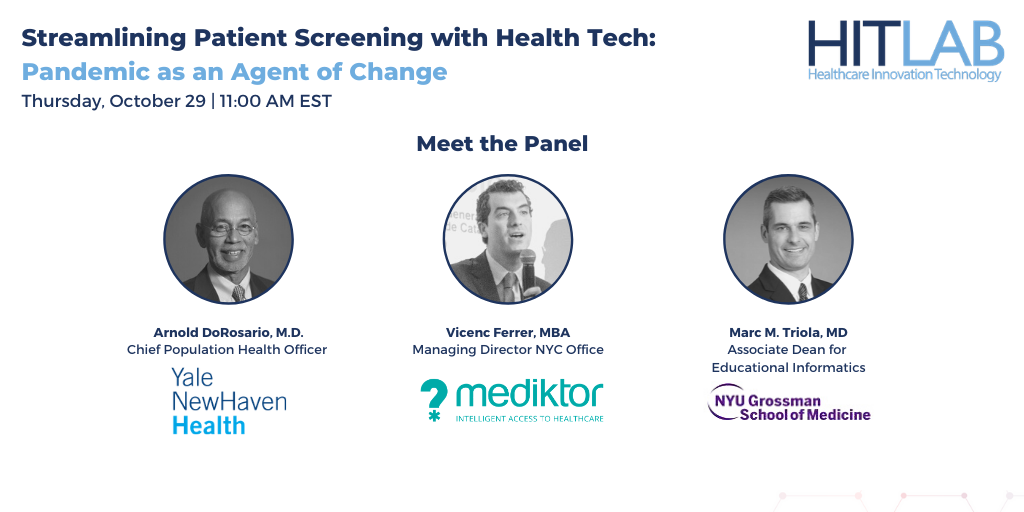 The COVID-19 pandemic has changed the delivery of healthcare forever. In this past year, healthcare has embraced digital solutions unlike ever before. Of course, the goal of any hospital or health systems is to ensure quality care is delivered efficiently across the entire care continuum. One gap still remains, however, at the initial contact between patient and provider. Leveraging technology, health systems can empower patients with personalized healthcare guidance before a patient walks through their doors. Using digital health to provide this guidance will not only empower patients but also optimize how health systems deliver care.
On October 29th, 2020, at 11:00 AM EST, HITLAB welcomes you to join a panel discussion on how digital health technologies can streamline patient screening. The panel will address how the COVID-19 pandemic has served as an agent of change.
HITLAB welcomes providers and digital health experts from NYU Grossman School of Medicine, Dr. Marc Triola, and Yale New Haven Health, Dr. Armand DoRosario, providing insights from their world leading healthcare systems and explaining how care is evolving at their health systems. Joining them will be Vicenc Ferrer, Managing Director NYC for Mediktor, the only clinically validated artificial intelligence (AI)-based medical assistant for triage, pre-diagnosis, and decision-making support.
Mediktor was one of two companies selected by the HITLAB Breakthrough Alliance in July 2020 out of more than 220 applicants. It is currently a certified class I medical device in Europe and classified as an information tool in the US. Mediktor is introducing their COVID19 assessment, an AI-driven symptom checker offering differential diagnosis, ordered from highest to lowest probability, and recommendations for further action.
"We are extremely proud to be selected by the HITLAB Breakthrough Alliance. It's a meaningful recognition for Mediktor's interest in developing clinical-grade digital solutions, and it encourages us to persist in this strategic line" added Ferrer, Mediktor's Managing Director based out of New York City.
Mediktor was selected based upon having developed highly promising broad and long-term digital solutions to healthcare gaps, brought to light by the global COVID-19 pandemic. As participants in this cohort of exceptional BTA innovators, HITLAB will be leading efforts to rapidly verify their solutions for measurable outcomes, market-fit and/or potential impact.
There is no cost to register for the webinar on October 29th. If you are unable to attend live but are still interested, please register to ensure you receive a recording of the event.
RSVP today to secure your 'seat.'
About HITLAB
HITLAB is an impact-first innovation and teaching organization based in New York City dedicated to improving healthcare delivery worldwide.  Our team of public health professionals, statisticians, entrepreneurs, clinicians, engineers, economists, strategists, designers, and anthropologists is determined to address healthcare needs across the globe. We work with a wide variety of stakeholders in both the public and private sectors to design and disseminate studies, programs, and products that improve healthcare access and delivery.
Every year, the organization hosts the HITLAB Innovators Summit, which brings together leaders in public health, medicine, technology, and design to discuss health issues and solutions in a two-day live event. The Summit offers a series of carefully curated talks, panels, and collaboration opportunities to engage the most creative minds in health and technology.
For more information, please visit www.hitlab.org or follow the company on Twitter @HITLabNYC.
About MEDIKTOR
Mediktor is the most accurate medical assistant based on Artificial Intelligence for triage, pre-diagnosis and clinical decision support. The only clinically validated one. Leading more than 4 million symptom assessments in 180 countries worldwide, developing an intuition comparable to the professional experience of more than 10 doctors throughout his career.
The company was founded in 2011 by Oscar García-Esquirol, specialized doctor in Intensive Medicine and Cristian Pascual, Industrial engineer. Mediktor has managed to close agreements with several international health institutions such as Yale New Haven Health System in the United States and Hospital Clínic in Barcelona.
About HITLAB Breakthrough Alliance
HITLAB Breakthrough Alliance is an accelerator that helps early-stage startups conduct rapid pilot studies to test their products and move closer to market. Selected startups have their technologies tested in pilot studies with clinical partners and patients, gathering the data needed to accelerate their concepts. To source startups, Breakthrough holds open innovation competitions and networking events that bring together the digital health and investment ecosystem.
Breakthrough is membership-based and board members represent the best organizations in healthcare.
The post HITLAB's Seminar Series "Streamlining Patient Screening with Health Tech" Welcomes Digital Health Titans from NYU Langone, Yale New Haven Health, and Mediktor first appeared on PRUnderground.
Press Contact
Name: Justin Bulova

Phone: 212-543-2000

Email: Contact Us

Website: http://www.hitlab.org
Original Press Release.