300Magazine is pleased to introduce the Pakistan-based Raka Studio, a family-operated designer studio creating unique furniture and lighting pieces.
(PRUnderground) October 21st, 2020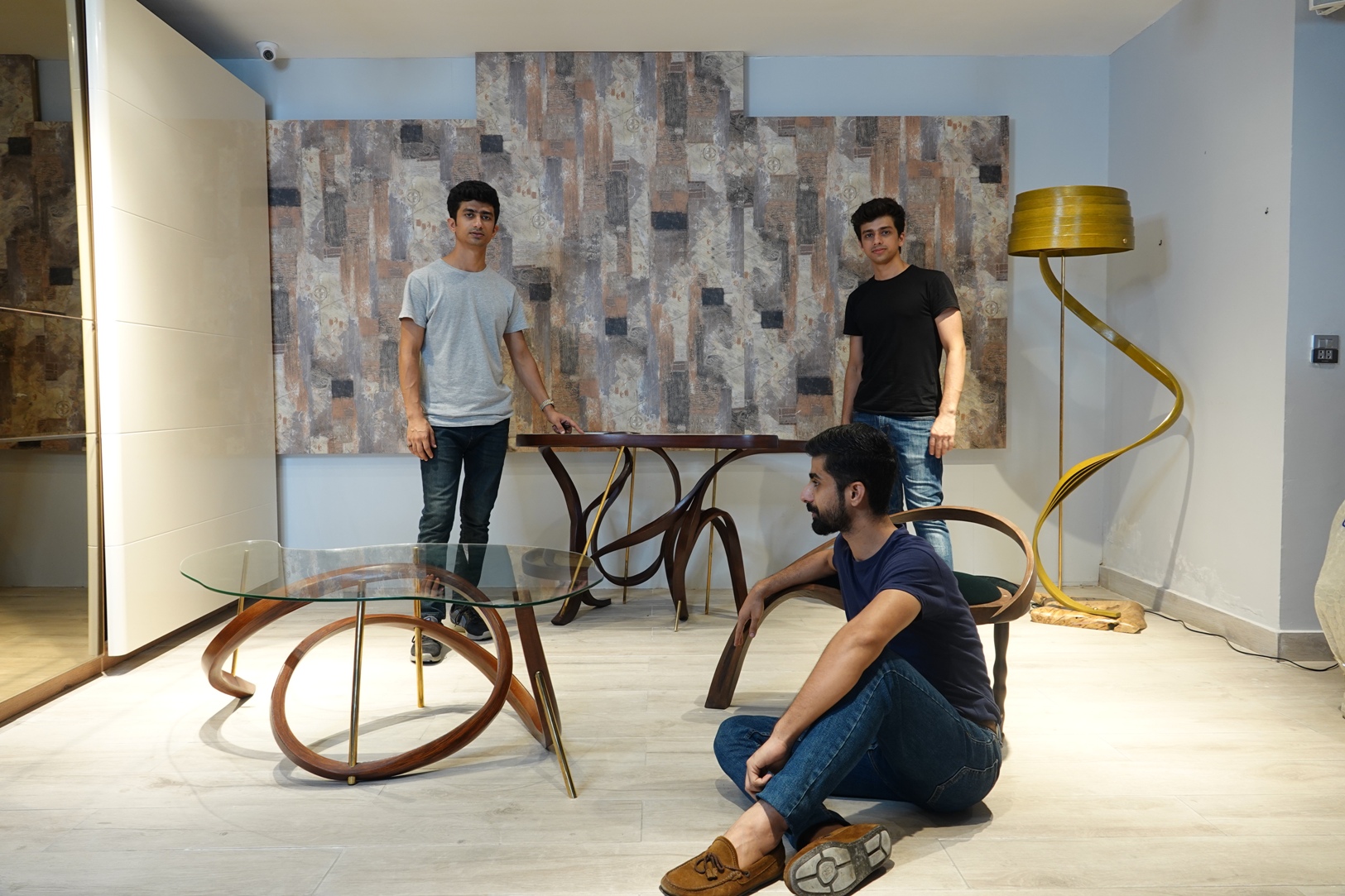 300Magazine is pleased to introduce the Pakistan-based Raka Studio, a family-operated designer studio creating one-of-a-kind furniture and lighting pieces. The range of their products is truly amazing, from floor lamps and coffee tables to long designer sofas and site-specific installations made for hotel lobbies. Since 2020, Raka Studio has been presented on the world's best online marketplace for extraordinary design, 1stDibs, bringing their exceptional creations to a wider international market.
Raka Studio is represented by three brothers – Waleed, Saleh, and Rayan – who create mesmerizing furniture and lighting using the ancient Japanese technique of wood bending. The Studio was established in 2018 and has already attracted considerable attention for the unique design and impeccable quality of each piece created by the brothers. The interesting fact is that none of the Raka Studio designers are formally trained in the fields of furniture making and lighting. Each of them has an innate talent that, in combination with the distinctive artistic vision and passion for design, has made Raka Studio's works stand out from many others.
To date, Raka Studio has introduced several collections of one-off furniture and lighting pieces. The first and most known one is Vrksa. The collection features a series of designs inspired by the nature flows. Each piece is made from ash wood in the traditional wood bending technique that has been in use in Japan since ancient times. Raka Studio also has a series of works integrating brass and other polished metals with ash wood, which adds another perspective to their designs. The brothers love that people have a varying view of their creations, and this is what motivates them to design their unique, mesmerizing furniture and lighting pieces. As mentioned above, many of their original works are now available online at 1stDibs, an online marketplace known for the amazing selection of antique furniture, vintage fashion, art, fine jewelry, and luxury designs from the world's best dealers.
From their family home to grand sculptural installations in public spaces to 1stDibs, the Pakistan-based Raka Studio is moving forward with new innovative projects and achievements. Their one-of-a-kind designer furniture and lighting pieces have already become an intriguing interior design trend that is worth keeping an eye on.
"We are not looking to furnish the whole space with our works, we just want to add a highlight piece in the room, which intrigues the person looking at it." – Raka Studio
At 300Magazine, we highly recommend that you check Raka Studio's portfolio and take a look at their unique designer furniture and lighting pieces created by three talented brothers from Pakistan. You will be amazed at their mastery and artistic vision!
About 300Magazine
300Magazine is an online magazine about fine art, culture, luxury watches, cars, boats, planes, jewelry, and everything related to luxury lifestyle. Based in New York City, we are fortunate enough to be living and working at one of the centers of art and technology of our time. This puts us in a strategic and inspired position to see what's new, who's who, and what you need to know. We also have a lot of friends overseas, keeping us posted on what is happening abroad.
The post Raka Studio Creates One-of-a-Kind Designer Furniture & Lighting first appeared on PRUnderground.
Press Contact
Name: Ilya Kushnirskiy

Phone: +19176585075

Email: Contact Us

Website: http://300magazine.com/
Original Press Release.