Will a U.S.-China Tech War Bring Out the Bears?
August 31, 2020 at 13:48 PM EDT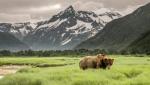 In China, and the world for that matter, technology has been one of the few bright spots in the capital markets. With Covid-19 doing a number on economies, technological reliance has been the byproduct, but will strain relations between the U.S. and China bring out the bears for tech? With the risk...