Can Domestic Travel Breathe Life Back Into Emerging Markets?
May 31, 2020 at 16:07 PM EDT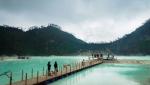 Travel restrictions as a result of the pandemic have obviously taken a toll on tourists taking to the skies to head overseas, but domestic travel could see a rise—something that could help breathe some much-needed life into emerging markets (EM). "Since the COVID-19 outbreak was first reported in...