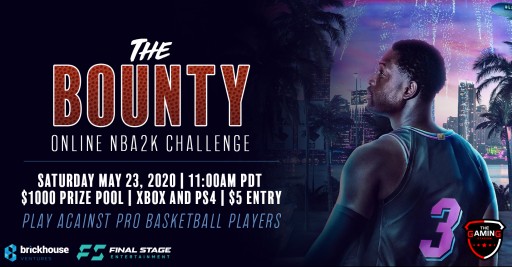 VANCOUVER, British Columbia - May 4, 2020 - (
Newswire.com
)
The Gaming Stadium is excited to team up with Will Sheehey, Indiana Hoosiers Alumni, to present The Bounty. This NBA2K tournament is hosted entirely online and will allow fans a chance to play against a pro basketball player. The Bounty will take place on Saturday, May 23, starting at 11:00 a.m. PST.
The pro players involved in this event are:
·         Will Sheehey
·         Christian Watford
·         Jonny Marlin
·         Jordan Hulls
·         E.J. Singler
·         Derek Elston
·         Joe Chealey
·         MiKyle McIntosh
·         Isaiah Moss
·         Peter Jok
·         James Blackmon, Jr.
·         Marques Townes
·         Murphy Holloway
·         Scott Bamforth
·         Deyonta Davis
·         Garret Sim
·         Liam Farley
·         Myke Henry
·         Kevin Ware
·         Duje Dukan
This will be a single-elimination tournament set up with multiple brackets with pro players in each one. The winner of each console tournament will win $500 USD. Entry into the tournament is $5 and is open now. PlayStation 4 users can register here, while Xbox One users can register here.
Each pro player will have a $250 bounty attached to them. Of the $250, $125 will go directly to charities supporting COVID-19 relief efforts. If anyone in the tournament eliminates a pro they will get the other $125!
The tournament will be streamed live on The Gaming Stadium's Twitch channel at twitch.tv/thegamingstadium. During the stream, those watching will be able to donate to help raise more funds for COVID-19 relief efforts.
"As a pro athlete, you relish any chance you get to interact with the fans," said Sheehey. "The fact we can raise money while playing video games and staying connected is amazing and I, along with the rest of the players, are very excited to jump in and show everyone what we got!"
The Bounty is brought to you by The Gaming Stadium, in partnership with Final Stage Entertainment and Brickhouse Ventures, and is sponsored by Edge Sports International, an elite athlete representation & marketing group.
Stay connected with TGS on Twitter, Instagram, Facebook, and Discord.
About The Gaming Stadium:
The Gaming Stadium, a first of its kind esports Stadium in Canada, is located in Richmond, British Columbia. For more information, visit www.thegamingstadium.com. 
Myesports Ventures Ltd. ("Myesports"), parent company of The Gaming Stadium, intends to complete a going-public transaction by way of a business combination with Brockton Ventures Inc. ("Brockton"), a capital pool company listed on the TSX Venture Exchange (the "Exchange"). The company resulting from the transaction between Myesports and Brockton will be named "TGS Esports Inc.", and it is expected to have its common shares listed on the Exchange as a Tier 2 Industrial Issuer under the symbol "TGS". The transaction has received conditional approval of the Exchange, although completion of the transaction remains subject to a number of conditions including receipt of financing, final approval of the Exchange and satisfaction of other conditions in the definitive agreement among the parties. For more information on the transaction, please refer to Brockton's Filing Statement dated February 29, 2020, which includes financial information for Myesports and Brockton, and Brockton's subsequent public filings, all of which are available on SEDAR at www.sedar.com under Brockton's profile or contact Myesports' Investor Relations department.
About Final Stage Entertainment:
Final Stage Entertainment is a producer, distributor, channel operator, and gaming video content company located in Vancouver and Los Angeles. Our video game-centric production company creates content for broadcasters and streaming platforms in multiple genres including reality, scripted, animation, and interactive live events. Our academy-nominated management team works with leading Twitch and YouTube brands and personalities to create content with global brand recognition for the next generation of viewers.
About Brickhouse Ventures:
Brickhouse Ventures partners with and invests in early-stage sports and entertainment companies. Brickhouse also provides opportunities for athletes and entertainers to learn about entrepreneurship through its financial education program called Next5. More information on Brickhouse and Next5 can be found at www.brickhouse.ventures.
Press Contact Name:
Spiro Khouri, CEO, The Gaming Stadium
Phone: 604-562-0606
Email: skhouri@thegamingstadium.com
Press Release Service by
Newswire.com
Original Source:
The Gaming Stadium Presents the Bounty, an NBA2K Online Tournament, Featuring Professional Basketball Players