Will Coronavirus Jitters Keep Driving Treasury Yields to New Lows?
February 24, 2020 at 10:34 AM EST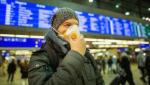 As coronavirus jitters keep the markets on edge, Treasury yields keep hitting new lows as more investors pile into safe haven assets like U.S. government bonds. China's National Health Commission reported last Friday that 75,465 cases of the virus have been confirmed in addition to the 2,236 deaths...