At the Travel & Adventure Show in Rosemont, the Taiwan Tourism Bureau unveiled its 2020 theme, Year of Mountain Tourism, which highlights 5 mountain ranges & 24 tours.
(PRUnderground) February 9th, 2020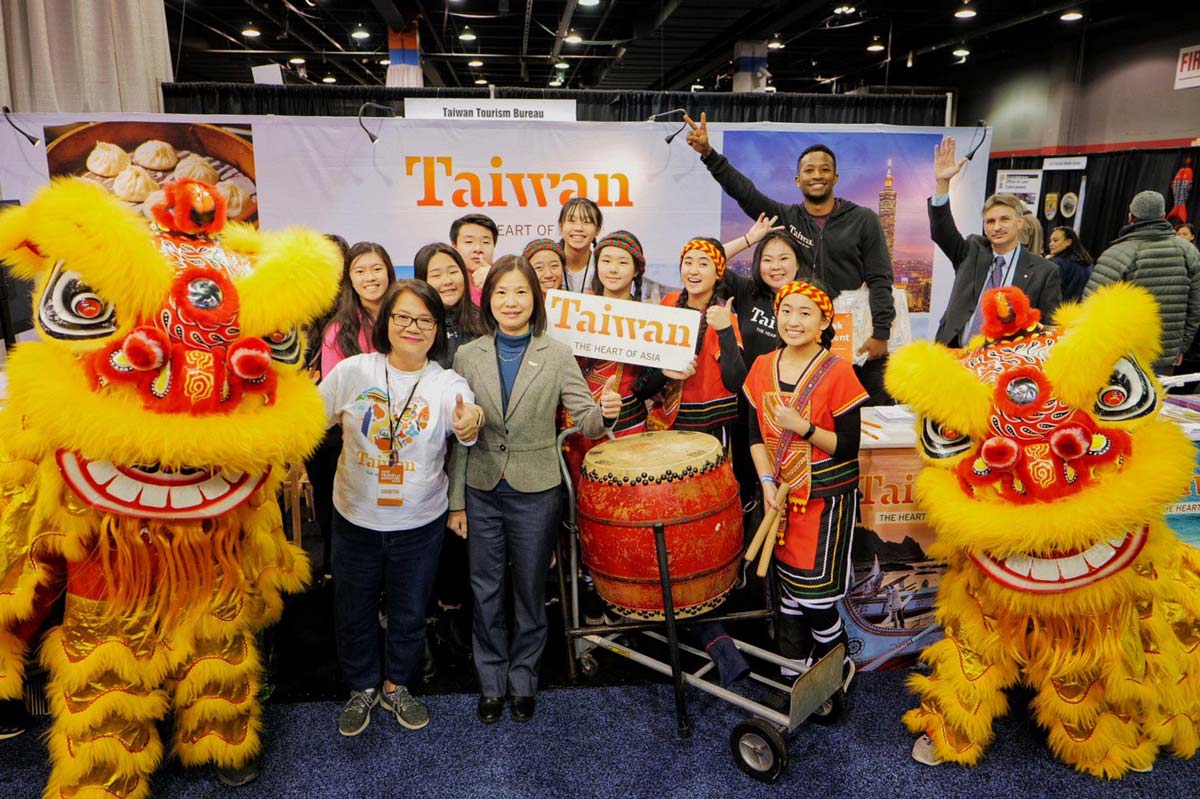 At the Travel & Adventure Show (TAS), which took place from February 8-9 at the Donald E. Stephens Convention Center in Rosemont, Illinois, the Taiwan Tourism Bureau (TTB) unveiled its theme for 2020, Year of Mountain Tourism, which highlights five of Taiwan's mountain ranges and 24 mountain-related package tours. Taiwanese airlines China Airlines and EVA Air also participated in the show.
To expand tourism to Taiwan from the American Midwest, TTB's booth offered tourism consultation services, fun games, and lantern making activities. TTB also invited the Chicago-based Taiwanese dance group FASCA, to perform Taiwanese aboriginal dances and lion dancing on the TAS Global Beats Stage, attracting large crowds to Taiwan's booth.
On the morning of February 8, TTB hosted a workshop, introducing Taiwan's tourism market and products to local trade. EVA Air provided a return flight from Chicago to Taipei for one lucky workshop participant. In total, more than a hundred travel trade participated in the workshop, each showing a deep interest in tourism to Taiwan.
Claire Wen, Director of Taiwan Tourism Bureau's New York office said "With 268 mountains that exceed 3,000m (~9,800ft) in height and modern tourism infrastructure that facilitates highly accessible hiking and biking routes Taiwan is perfect for adventure travelers. The 24 mountain-related package tours offered during our Year of Mountain Tourism, include everything from hikes for novices and professionals alike, river tracing, aboriginal archery, as well as food and tea experiences – There's literally something for everyone! We welcome all Americans to come and adventure in Taiwan."
For more information about Taiwan, please visit: eng.taiwan.net.tw
###
To find out about future exhibitions Taiwan Tourism Bureau will be participating in, please visit: taiwan.events
About Taiwan Tourism Bureau
The Taiwan Tourism Bureau (TTB) is the official government agency of Taiwan (R.O.C.) responsible for domestic and international tourism policy development and execution. The Eastern USA & Canada markets are managed by the New York office of the Taiwan Tourism Bureau.
The marketing slogans currently in use for Taiwan, are "Time for Taiwan" and "The Heart of Asia", while the official mascot of the TTB is OhBear, a cartoon Formosan Black Bear, the national animal of Taiwan.
Press Contact
Name: Alex Trup

Phone: +886 3 2871500

Email: alex@purple.media
Original Press Release.