Will Slowing Business Investment Hold Back U.S. Equities?
November 29, 2019 at 10:57 AM EST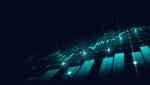 U.S. Gross domestic product (GDP) grew at a 2.1% annual pace in the third quarter, which came out higher than the anticipated 1.9%, but business investment languished with nonresidential fixed investment falling by 2.7%. Will those hold back U.S. equities? According to market experts, tariffs from...