Is Apple (AAPL) Still a Good Buy?
October 31, 2019 at 14:40 PM EDT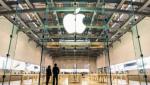 Apple (AAPL) reported fourth-quarter earnings that bested analyst expectations on Wednesday, as result of strong performance in services and its fast-growing wearables business. Although Apple's iPhone business was down 9% year-over-year, the company signaled that it expected a substantial holiday...