FOMC: An Early Trick? Or a Treat for Traders?
October 23, 2019 at 14:40 PM EDT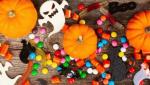 The U.S. Treasury yield curve, as measured by the difference between the 2-year and 10-year bonds inverted at the end of August only to steepen sharply at the beginning of September before collapsing post the FOMC meeting and is re-steepening again as economic data has shown signs of weakness...